About
I never really look for anything. What God throws my way comes.
Newer posts are loading.

You are at the newest post.
Click here
to check if anything new just came in.
What Will Cause Painful Heel And Ways To Prevent It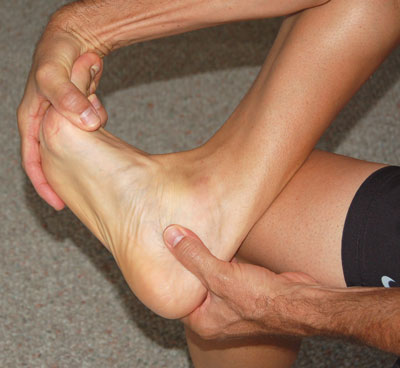 Overview
Plantar fasciitis is a dull to severe pain in your heel caused by a strain and inflammation of your plantar fascia. The plantar fascia is a scientific name for "foot tissue". This particular tissue is a ligament attached at one side to the heel bone. At the other side, the tissue fans out to attach at the base of each of your five toes. Plantar fasciitis is the name for the condition that develops when that tissue becomes inflamed. When the plantar fascia is excessively stretched, micro-tears can occur, causing this swelling and subsequent pain.
Causes
Plantar fasciitis occurs when the thick band of tissue on the bottom of the foot is overstretched or overused. This can be painful and make walking more difficult. You are more likely to get plantar fasciitis if you Have foot arch problems (both flat feet and high arches), run long distances, downhill or on uneven surfaces, are obese or gain weight suddenly, have a tight Achilles tendon (the tendon connecting the calf muscles to the heel), wear shoes with poor arch support or soft soles. Plantar fasciitis is seen in both men and women. However, it most often affects active men ages 40 - 70. It is one of the most common orthopedic foot complaints. Plantar fasciitis was commonly thought to be caused by a heel spur. However, research has found that this is not the case. On x-ray, heel spurs are seen in people with and without plantar fasciitis.
Symptoms
The main symptom of plantar fasciitis is heel pain when you walk. You may also feel pain when you stand and possibly even when you are resting. This pain typically occurs first thing in the morning after you get out of bed, when your foot is placed flat on the floor. The pain occurs because you are stretching the plantar fascia. The pain usually lessens with more walking, but you may have it again after periods of rest. You may feel no pain when you are sleeping because the position of your feet during rest allows the fascia to shorten and relax.
Diagnosis
The health care provider will perform a physical exam. This may show tenderness on the bottom of your foot, flat feet or high arches, mild foot swelling or redness, stiffness or tightness of the arch in the bottom of your foot. X-rays may be taken to rule out other problems.
Non Surgical Treatment
Treatment of heel pain caused by plantar fasciitis begins with simple steps. There are a number of options for treatment of plantar fasciitis, and almost always some focused effort with nonsurgical treatments can provide excellent relief. In rare circumstances, simple steps are not adequate at providing relief, and more invasive treatments may be recommended. Typically, patients progress from simple steps, and gradually more invasive treatments, and only rarely is surgery required.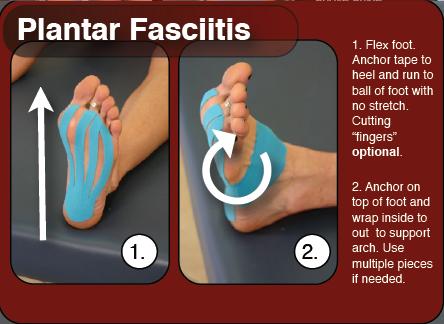 Surgical Treatment
In unusual cases, surgical intervention is necessary for relief of pain. These should only be employed after non-surgical efforts have been used without relief. Generally, such surgical procedures may be completed on an outpatient basis in less than one hour, using local anesthesia or minimal sedation administrated by a trained anesthesiologist. In such cases, the surgeon may remove or release the injured and inflamed fascia, after a small incision is made in the heel. A surgical procedure may also be undertaken to remove bone spurs, sometimes as part of the same surgery addressing the damaged tissue. A cast may be used to immobilize the foot following surgery and crutches provided in order to allow greater mobility while keeping weight off the recovering foot during healing. After removal of the cast, several weeks of physical therapy can be used to speed recovery, reduce swelling and restore flexibility.
Stretching Exercises
Calf stretch. Lean forward against a wall with one knee straight and the heel on the ground. Place the other leg in front, with the knee bent. To stretch the calf muscles and the heel cord, push your hips toward the wall in a controlled fashion. Hold the position for 10 seconds and relax. Repeat this exercise 20 times for each foot. A strong pull in the calf should be felt during the stretch. Plantar fascia stretch. This stretch is performed in the seated position. Cross your affected foot over the knee of your other leg. Grasp the toes of your painful foot and slowly pull them toward you in a controlled fashion. If it is difficult to reach your foot, wrap a towel around your big toe to help pull your toes toward you. Place your other hand along the plantar fascia. The fascia should feel like a tight band along the bottom of your foot when stretched. Hold the stretch for 10 seconds. Repeat it 20 times for each foot. This exercise is best done in the morning before standing or walking.