About
I never really look for anything. What God throws my way comes.
Newer posts are loading.

You are at the newest post.
Click here
to check if anything new just came in.
December
17
2014
Achilles Tendinitis The Facts
Overview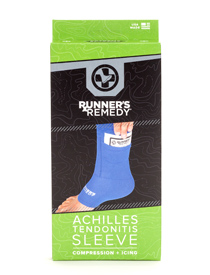 Achilles tendinitis (tendonitis) or Achilles tendon inflammation occurs when the Achilles tendon becomes inflamed, as a result, of the Achilles tendon being put under too much strain. The Achilles tendon joins the calf muscles to the heel bone, and is found at the back of a person's lower leg. It is the largest tendon in the body and can endure great force, but is still susceptible to injury. Achilles tendinitis is usually the result of strenuous, high impact exercise, such as running. If ignored, Achilles tendinitis can lead to the tendon tearing or rupturing, and therefore it is important to seek the necessary treatment. Sometimes, treatment can be as simple as getting rest or changing an exercise routine. However, in more severe cases, surgery may be required.
Causes
The two most common causes of Achilles tendonitis are Lack of flexibility and Overpronation. Other factors associated with Achilles tendonitis are recent changes in footwear, and changes in exercise training schedules. Often long distance runners will have symptoms of Achilles tendonitis after increasing their mileage or increasing the amount of hill training they are doing. As people age, tendons, like other tissues in the body, become less flexible, more rigid, and more susceptible to injury. Therefore, middle-age recreational athletes are most susceptible to Achilles tendonitis.
Symptoms
Common symptoms of Achilles tendinitis include weakness in the leg, slight pain above the heel in the lower leg after activity, feeling of stiffness in the leg that usually appears in the morning and lessens throughout the day, bad pain the day after exercising, pain as you climb stairs or go uphill, swelling in the area of the Achilles tendon, creaking or cracking noise when you press on the Achilles tendon.
Diagnosis
If Achilles tendonitis is suspected, avoid any exercise or activity that causes the pain. It is advisable to see a doctor promptly so that an accurate diagnosis can be made and appropriate treatment recommended. The doctor will take a full medical history and will ask about the nature and duration of the symptoms. They will perform a physical examination of the affected area. Ultrasound scanning may be used to assess damage to the tendon or surrounding structures. Occasionally MRI (magnetic resonance imaging) may be recommended. The symptoms of Achilles tendonitis are often similar to symptoms of other conditions such as partial Achilles tendon rupture and heel bursitis. This can make diagnosis difficult and a referral to an orthopaedic specialist may be required in order for an accurate diagnosis to be made.
Nonsurgical Treatment
Make sure that the tendon is not torn through and through. If it is severed, you must see a doctor immediately so that the tendon can be repaired. Severe injuries can sever a tendon, without a skin laceration being present. Testing involves moving the toes and foot to see if the tendon moves. If the tendon does not appear to move, it may be severed (comparing the injured tendon and its movement to the same tendon on the uninjured foot may help). Very sharp pain, a sudden pop, or an obvious gap in the structure of the tendon are all signs of a rupture, and should be seen by a doctor as soon as possible. If there is extreme swelling of the leg, and pain (out of proportion to the amount of trauma received), you may have sustained a vascular injury. A doctor must see this type of injury immediately. If you are not sure, see a doctor. If you have multiple injured areas see a doctor immediately, in order to prevent excessive swelling and pain. If the above exam is negative, then you may proceed with self-treatment. (However, if you are not sure of the extent of your injury, you should consult your doctor immediately). The sooner you begin to treat your injury by following "R.I.C.E.", the better you will feel. Rest is very important. Take off your shoe, get off your feet, and relax. Ice should be applied as soon as possible. Never apply ice directly on the injured area, as the cold may make the pain worse. Ice should be applied close to the injured site, between the heart and the injury, so that as the blood flows under the ice, it will be cooled. This cool blood flowing into the injured area will help to reduce the swelling and pain. Apply the ice, wrapped in a cloth or over an elastic bandage, to the foot for 15 minutes, every 1-2 hours, for up to 3 days after an injury. If the ice is uncomfortable, or causes increased pain, do not continue to use it, and see a doctor. If you have poor circulation do not use ice, as this may cause a serious problem. c. Compression is used to limit swelling, and to give support to the injured area. Compression should be applied to the entire foot, starting first at the toes and working back to the ankle. If it is applied just to the injured area, increased swelling will occur in front and behind the wrapping. Compression should be applied with a 3-inch elastic bandage, beginning around the base of all the toes, and then going around the foot and ankle. Continue over the calf muscle when possible. Compression reduces motion in the injured area and foot, and this decreases the pain, and allows for quicker healing. The bandage should not be so tight that it causes increased pain or throbbing in the toes or foot. It should be comfortable! Do not remove the elastic bandage for the first 12 hours, unless it becomes too tight, or the pain increases, or the toes become pale, blue, or cool. If any of these things happen, immediately remove all bandages, and leave them off for several hours. The normal color and temperature of the toes should return immediately. If not, see a doctor immediately! Continue until the swelling and pain subsides; it could take from several days to several weeks. d. Elevation of the leg will aid in reducing swelling and pain. Blood rushes to an injured area to bring increased blood cells, that aid in healing. Gravity will also force blood to the injured area. Too many cells and too much fluid will apply pressure to the injured nerves and tissues, and cause increased pain and delayed healing. Keep your foot elevated so that it is at least parallel to the ground, or higher if it is comfortable. Do this for at least 48 hours, or until the throbbing subsides, when you lower the leg.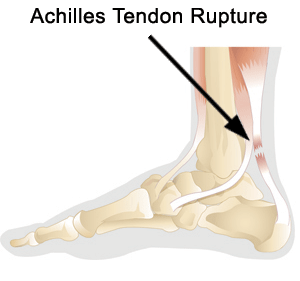 Surgical Treatment
Treating this surgically, there are numerous methods to repair the tendon. Most commonly, Achilles tendon is exposed through an incision at the back of the ankle. After identifying both ends of ruptured tendon, the edges got trimmed and then both ends were sutured together with optimal tension. To get a better outcome with fixation, an anchor may have to be in place in calcaneus, provided the rupture is very low. Care must be taken to avoid injuries to the nerves located adjacent to the tendon.
Prevention
So what are some of the things you can do to help prevent Achilles Tendinitis? Warm Up properly: A good warm up is essential in getting the body ready for any activity. A well structured warm up will prepare your heart, lungs, muscles, joints and your mind for strenuous activity. Balancing Exercises, Any activity that challenges your ability to balance, and keep your balance, will help what's called proprioception, your body's ability to know where its limbs are at any given time. Plyometric Training, Plyometric drills include jumping, skipping, bounding, and hopping type activities. These explosive types of exercises help to condition and prepare the muscles, tendons and ligaments in the lower leg and ankle joint. Footwear, Be aware of the importance of good footwear. A good pair of shoes will help to keep your ankles stable, provide adequate cushioning, and support your foot and lower leg during the running or walking motion. Cool Down properly, Just as important as warming up, a proper cool down will not only help speed recovery, but gives your body time to make the transition from exercise to rest. Rest, as most cases of Achilles tendinitis are caused by overuse, rest is probably the single biggest factor in preventing Achilles injury. Avoid over training, get plenty of rest; and prevent Achilles tendinitis.